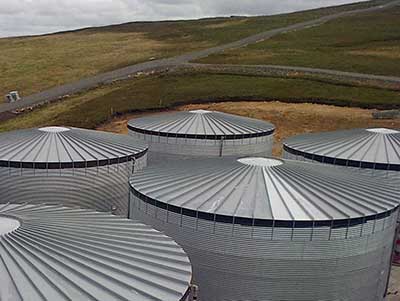 Our steel water storage tanks are ideal for both long term and temporary use and are offered in a wide range of capacities up to 1.2 Million litres.
The steel water storage tanks are supplied complete with waterproof liner, assembly instructions and all the tools you'll need to complete the installation.
They are extensively used around the UK for a range of liquids including firewater, rainwater, drinking water, liquid fertiliser and many specialist liquids used in manufacturing. Our latest major tank project was for MonoEthylene Glycol storage in the Shetland Islands).

No base structure required: they can be built on any flat ground.
They are suitable for all climates.
Our largest tanks can be erected in under 8 hours by 3 people.
Water Tank Body
The main tank structure comprises corrugated G450 galvanised steel panels. The panels are punched and curved to suit the tank size. Galvanised round headed bolts (M10 or M12 depending on tank size), washers & nuts are provided to assemble the panels to form a steel ring at the required diameter and height. The top edge of the steel is protected by a circular plastic capping piece.
Water Tank Lining
A range of lining materials in varying thicknesses are available. Our UK tank store offers a 1.00mm EPDM rubber liner as standard but replacement liners are available in both Butyl and EPDM. Material is selected dependant on the tank application. The team at Butyl Products will be pleased to discuss your specific requirements on 01277 653 281, simply give them a call.
The tank liner is prefabricated to form a bag that fits neatly into the steel structure. This is secured to the top of the tank using capping pieces and spring clips.
Water Tank Fittings

2″, 3″ or 4″ BSP (M) Through tank fittings provided for inlet / outlet use.
They can be positioned where required & fitted with ball valves or gate valves.
Water Tank Roofs
Most storage tanks in the UK are used as 'open top' for rainwater harvesting. Where a roof is required we offer 3 options: Galvanised G600 sheet steel, Quilted 'bubble blanket' or Anti Algae covers.
Water Tank Heaters
Anti-freezing immersion heaters can be fitted and controlled by frost stats to warm the tank contents and prevent freezing if required.