Galvanised Steel Storage Tanks – Laggan Tormore North Sea Gas Terminal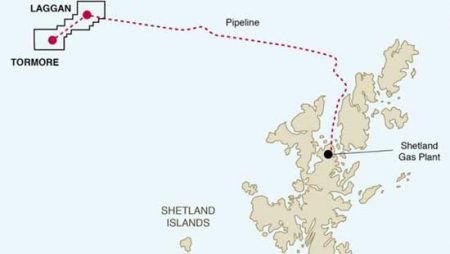 Project 
Supply and install galvanised steel storage tanks for Glycol storage at Laggan Tormore North Sea Gas Terminal
Summary
The new Laggan Tormore Gas Terminal required 4,500,000 litres of Ethylene Glycol to be safely stored on a temporary basis. Design considerations included:
Safe and secure containment of the Glycol through selection of appropriate lining material
Environmental standards had to be very high as agreed with Shetland Islanders
Rapid deployment was required to meet project critical path
Safe removal of all equipment when main storage facility came online
Challenges
At the planning stages special consideration was given to the adverse weather conditions frequently experienced in the Shetland Isles such as high winds, heavy rainfall and snow.
The tank structure was up-rated to accommodate this, and a steel roof option was designed to resist the weather conditions, particularly snow loading.
Our Solution – Steel Storage Tanks
We offered specially designed steel storage tanks, with a structure built from galvanised, corrugated steel panels.  The steel panels are curved to form the required diameter and then punched to accommodate the correct number and layout of fixings to meet EU standards for this type of storage tank.
Each of the 9 tanks measures 4.59m high x 11.98m diameter to meet the capacity requirement.
The watertight liners for these tanks are manufactured in our UK factory to the high standards required for the petrochemical industry and military / Emergency Aid specifications.
The liner selected was 1.00mm Butyl Rubber with grade A recommended chemical resistance to the Glycol to be stored.
Bespoke Butyl rubber sleeves were designed and supplied, protecting the galvanised iron roof supports from the tank contents. The tank roofs were designed to be transportable in kit form and were supplied complete with lockable inspection manways.
Our galvanised steel storage tanks have five decades of service history and are widely deployed in the UK and overseas. They are found wherever safe and secure liquid storage is required.
Please check out our UK Tank Store for details of our galvanised steel storage tank range.