We offer 10% discount to NFU members!
Our UK Manufactured, high quality water bladders have been developed to provide rapid water storage capability in remote areas of farmland. We have successfully deployed our bladders for use by Dairy, Cattle and Poultry Farmers for a wide range of uses including, emergency water storage, rainwater harvesting and liquid slurry storage.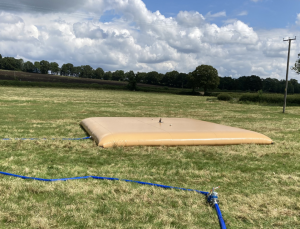 The tanks are extremely versatile and can be unrolled and used on any area of flat ground that has been cleared of debris, they require no special tools for installation, and are easily emptied and packed for storage when not in use.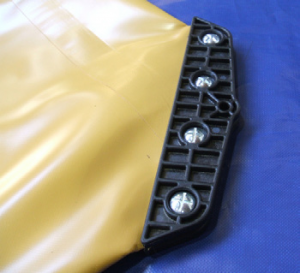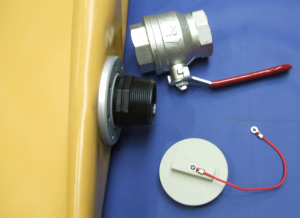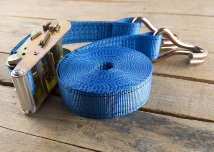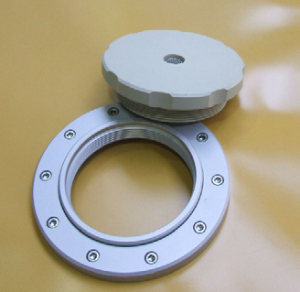 • 500 to 150,000 litre capacity
• Installed rapidly without mechanical assistance
• Securely packed in ISPM15 heat treated plywood cases suitable for repeat use
• Includes instruction manual and bladder repair kit
• Supplied as individual tanks or as part of a kit to include optional pipework and-pumps produced by our UK based sister company, Pumpsets Ltd
• Suitable for water/waste water storage & transportation and for chemically contaminated waste water applications.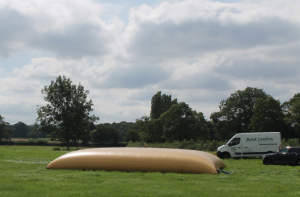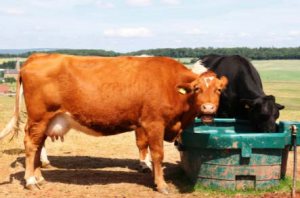 Construction Detail:
All bladders are fitted with reinforced corner mouldings with integral tie-down holes and an automatic pressure relief valve set at 1PSI (0.007Nm/m2) to prevent bursting through overfilling.
Outlets: Medium Duty Static Water Tank (up to 20,000 ltrs)
One 2" BSP(M) reinforced PP moulded outlet with screw cap to one side of tank
One 4" BSP(F) PP moulded outlet with PVC screwed cap and integral pressure relief valve at the top of the tank.
Outlets: Heavy Duty Static & Transport Use Water Tanks (up to 150,000 ltrs)
Two 2" BSP(F) anodised aluminium screwed outlets installed to one side of the tank.
One 4" BSP(F) anodised aluminium screwed outlet with PP screwed plug incorporating an integral pressure relief valve at the top of the tank. Extra outlets can be provided to suit the tank application.
Optional outlets and connections available, for example, Bauer and Camlocks etc.
Medium and Heavy Duty Tanks up to 150,000 litre capacity
• Base cloth: PES/PES (1100g/m2)
• Breaking strength: 4000N/5cm
• Tear strength: 600N
• Adhesion:100N/5cm
• Temperature resistance:-30C to +70C
| | | | |
| --- | --- | --- | --- |
| Capacity (litres) | Layflat Size (metres) | Gr/Sheet Size (metres) | Tank Size Filled (m) (approx.) |
| 500 | 2.00 x 1.30 | 3.00 x 2.00 | 1.70 x 1.00 x 0.30 |
| 1,000 | 1.50 x 2.60 | 2.50 x 4.00 | 1.00 x 2.10 x 0.50h |
| 2,000 | 2.30 x 2.60 | 3.50 x 4.00 | 1.70 x 2.00 x 0.60h |
| 3,000 | 3.10 x 2.60 | 4.00 x 4.00 | 2.50 x 2.00 x 0.60h |
| 5,000 | 4.50 x 2.60 | 5.50 x 4.00 | 3.80 x 1.90 x 0.70h |
| 10,000 | 3.40 x 5.20 | 4.50 x 6.00 | 2.40 x 4.20 x 1.00h |
| 15,000 | 4.50 x 5.20 | 5.50 x 6.00 | 3.40 x 4.10 x 1.10h |
| 20,000 | 5.40 x 5.20 | 6.00 x 6.00 | 4.20 x 4.00 x 1.20h |
| 30,000 | 7.20 x 5.20 | 8.50 x 6.00 | 5.90 x 3.90 x 1.30h |
| 40,000 | 7.20 x 6.55 | 8.50 x 7.50 | 5.90 x 5.25 x 1.30h |
| 50,000 | 8.30 x 6.50 | 9.30 x 7.50 | 6.80 x 5.00 x 1.50h |
| 60,000 | 8.40 x 7.35 | 10.00 x 8.35 | 6.90 x 5.35 x 1.50h |
| 80,000 | 9.20 x 7.35 | 10.00 x 8.35 | 7.70 x 5.35 x 1.50h |
| 100,000 | 10.40 x 9.10 | 11.50 x 10.00 | 8.90 x 7.60 x 1.50h |
| 150,000 | 10.40 x 12.80 | 14.00 x 11.40 | 8.90 x 11.30 x 1.50h |