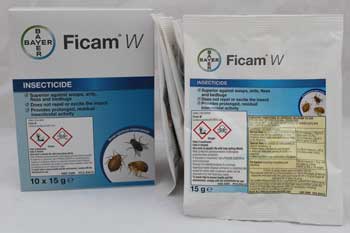 Ficam W Insecticide Sachets
Out of stock
Ficam W is recommended for the control of cockroaches, ants, fleas, flies, mosquitoes, bedbugs, carpet pests, wasps, bees, moths, silverfish and other bristle tails, firebrats, beetles, earwigs, crickets, booklice, spiders, woodlice, centipedes, millipedes, ticks and thrips.
The product can be applied to hard porous and non porous surfaces, hard furnishings and soft furnishings (including mattresses).
Not for use on clothing or bedding.
Contains bendiocarb 80% w/w
Superior against wasps, ants, fleas and bedbugs

Does not repel or excite the insect
Provides prolonged, residual insecticidal activity
This item is for professional use only and is supplied in accordance with the following agency specifications: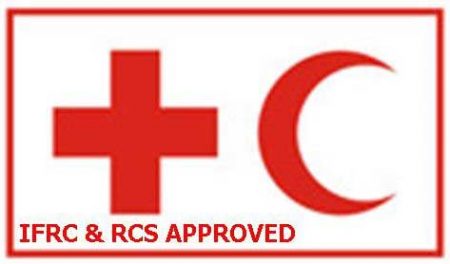 Description
IFRC & RCS (Red Cross & Red Crescent) order code: WCHPPERM5P2
Product Specifications
Each box contains 10 x 15g sachets. Each sachet is mixed into approx. 5 litres of water.
5 litres of spray liquid covers approximately 125m²
FOR USE ONLY AS AN INSECTICIDE BY PROFESSIONAL OPERATORS.
PLEASE READ ALL PRECAUTIONS BEFORE USE.
HSE 5390 PCS 93413
Always wear protective gloves / clothing / eye / face protection.
An outer carton contains 10 boxes of 10 x 15g sachets. Weight 2.8kg. Dimensions 40 x 20 x 20 cm.
Each individual box of 10 sachets as below.
| | |
| --- | --- |
| Weight | 0.23 kg |
| Dimensions | 17 × 13 × 8 cm |