Green Roofs & Pond Liners
Best Priced authentic Butyl rubber liners on the web, direct from the Manufacturer
For Liners that Last…
Our Pond Lining division has been manufacturing pond and flat roof liners for over 50 years, and we're the longest established UK company to do so. We really do take a lot of pride in knowing that our liners are made to last. In fact – we know that there are still reservoir and lake liners around the world that we installed over forty years ago – and they're still going strong.
Now that's not a bad product lifetime by anyone's standards !
Garden ponds and Green roofs give hours of pleasure and are easy to install. Our pond liner buying guide will help you find everything you need to know. Butyl Products Ltd. supply flat sheet liners and bespoke box welded liners manufactured in our UK facility to sizes that exactly fit your pond, whether you have a natural freeform or a more formal shape.
See our helpful pond liner design guide if you're still deciding what sort of pond you'd like.
Our skilled technicians will manufacture your bespoke custom made pond liner and have it delivered right to your door in just a few days.
We also offer an installation service and on-site welding facilities for complex ponds and lakes where self-installation is not appropriate. Please see our Geomembrane Lining Section for further information or Contact Us with your sketches, plans or drawings and we'll call you to discuss.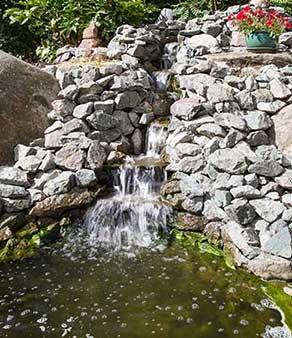 No products were found matching your selection.