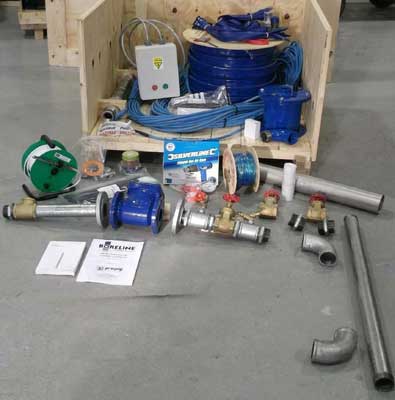 Grundfos Submersible Pump Kit 4″
4″ Multi stage submersible pump kit with 3 phase electric motor and transmitter used for pumping water from 60-110m depth. Rated flow of 8m³ / hour at rated head 107m. The transmitter sends signals to the control panel to prevent dry running and overheating issues.
Power requirement 4.0kW (8.o to 10.0 kW for starting).
A 12.5 kVA generator is recommended for this pump set.
For technical help and advice we recommend visiting our specialist Pump Division.

This Pump Set is supplied in accordance with the following agency specifications:
Description
Oxfam order code: BS4/1
International Rescue Committee (IRC) order code: SBHPUMKIT4
Product Specifications
The pump kit is supplied with:
Complete pump and motor set
Rising main and wellhead assembly
Fittings and spares kit
Control panel
Operation and maintenance manuals
110m pump cable
Packing Information:
Crate 1 – 128 x 128 x 68cm    279kg
Crate 2 – 314 x 35 x 40cm      125kg  
Downloads for this product:
There are no downloads for this product.