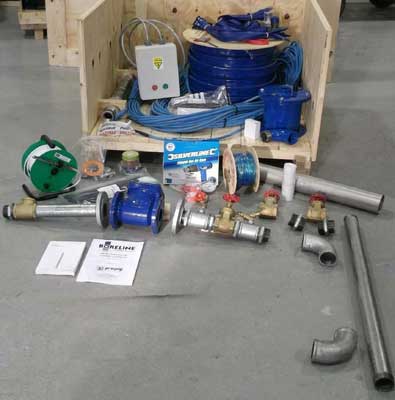 Grundfos Submersible Pump Set 3″
3″ Ø single phase motor pumpset with rising main, wellhead assembly and control panel used for pumping water from 25-60m depth and is suitable for continuous or periodic operation. The multi stage submersible pump is fitted with an electric motor and has a rated flow of 5m³ / hour at rated head 73m. Power requirement 2.2kW (approximately 4kW for starting).  
For technical help and advice we recommend visiting our specialist Pump Division.

This Pump Set is supplied in accordance with the following agency specifications:
Description
Oxfam order code: BSQ5/1
Save the Children order code: WA005
International Rescue Committee (IRC) order code: BHPUMKIT
Product Specifications
The pump kit is supplied with:
Complete pump with motor
Operating and maintenance instruction manuals.
Installation & spares kit
Dip meter
Rising main and wellhead assembly, non return valve and control valve assembly
80m pump cable
Packing Information:
Crate 1 – 115 x 115 x 60cm    192kg
Crate 2 – 315 x 25 x 35cm      59kg
Downloads for this product:
There are no downloads for this product.