We've been pretty busy.
Site installations and geomembrane lining works may be on hold for a while, but our teams have rallied to the cause and here's a run down of what's been happening at Butyl Products / Butek Landline in the last few weeks.
---
Covid-19 Mobile Testing Platforms: Conversion, Fitting & Kitting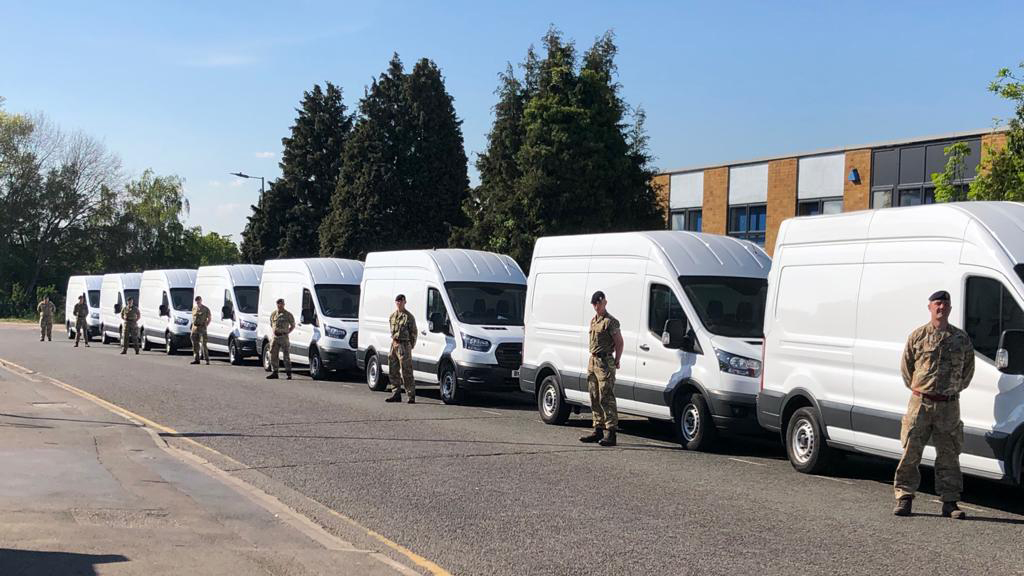 Covid-19 Mobile Testing Vehicles being collected by 7 Regiment RLC under the command of Brigadier Elizabeth Faithfull-Davies
See the full video (2:47min) Here
We were contacted initially by the DHSC on Tuesday 14th April regarding sanitisation solutions, which we had previously supplied to Aid Agencies and NGO's to fight Cholera and Ebola epidemics around the Globe.  This developed into a full enquiry for fitting out Ford Transits with a complete COVID-19 pop-up test centre to include the following: –
Supply & installation of:
Electrical Handwash units.
Electrical inverters.
Ply lining to create 3 x rear compartments.
PVC impermeable linings to the rear and main compartments to enable wash-down / wipe-down with disinfectant.
Bespoke Galvanised steel storage rack to the main compartment.
Anti-slip walkway plastic to the floor in the main compartment.
In addition, we have supplied and packed a complete kit to DHSC specifications to enable rapid assembly and safe operation.
We received an instruction to proceed on Thursday 16th April and the first two vehicles were delivered into us the same day by Hertz.  The work was completed and the fully fitted and kitted out prototype vehicles were collected by the MoD on Saturday 18th April.
We have been fitting and kitting out vehicles since then, with an initial output of 4 vehicles per day, which has increased up to 8 vehicles per day on the 26th April.  By 30th April we will have prepared, fitted and kitted out 60 vehicles within 2 weeks from a standing start, as well as supplying 36 x loose item kits for operation in existing government agency vehicles.
We are extremely proud of the team's achievements, working 14-hour days, 7 days per week.  We have had over 30 members of our own staff working on the project including members of staff from our specialist lining division (Butek-Landline) plus we have also had help with the fitting out from the following companies: –
Drumgold Construction (Carpentry), Steve Timothy & Sons (Carpentry), Safe & Sound Ltd (Auto Electrics), Evans Tiling (Anti-Slip Flooring) and Lifco Ltd (Galvanised steel racking).  In addition, we have had great logistical support from Jamie & David.
We'd like to extend additional thanks to Basildon Council for being supportive throughout the project.
This has been an enormous team effort and we would like to express our gratitude to these companies and individuals that have worked around the clock to deliver kit needed in this National Crisis.
We have also received excellent supply chain support from a large number of companies, but in particular would like to thank Chandler Material Supplies Ltd (Timber and building products), Argos (Tables & Chairs), Halfords (Electrical Cool Boxes), All Season Gazebos, Portable Power Technology (Inverters), Screwfix Basildon (fixings) and EEW Ltd (Electrical items).
Butyl Products Ltd has been involved in manufacturing and supplying equipment and kits needed in crises for over 40 years, including the Boxing day Tsunami, Haiti Earthquake and many other humanitarian emergency situations.  This has however been our greatest ever challenge and we are very proud to have delivered in our own nations time of need.
We dedicate our efforts to all those working for the NHS, Care Homes and other front-line services.
Gavin Mitchell, Managing Director for Butyl Products Group