In an era where innovation meets the urgent need for resilient solutions, Butyl Products Ltd. is proud to unveil a game-changing enhancement to our Emergency Aid steel tanks: Magnelis® coating.
With full integration set to kick off in January 2024, this cutting-edge metallic steel coating promises to redefine the standards of durability and protection.
For the past year, we've been meticulously preparing, scheduling steel orders, and fine-tuning our approach, all in anticipation of the enthusiastic response we're sure to receive. The data from comparative studies is nothing short of impressive, with Magnelis® outshining equivalent products thanks to its advanced composition and remarkable self-healing properties.
But what exactly is Magnelis®, and why is it causing such a buzz in the industry? 
This innovative coating comprises a metallic Zinc base infused with 3.5% Aluminium and 3% Magnesium, creating a formidable shield against the harshest of environments, including chloride, ammonia, and highly alkaline conditions.
Magnelis® boasts a list of benefits that set it apart:
1. Zinc-Aluminium-Magnesium Coating:
This unique alloy provides unparalleled corrosion resistance, leaving traditional zinc and galvanised coatings in the dust.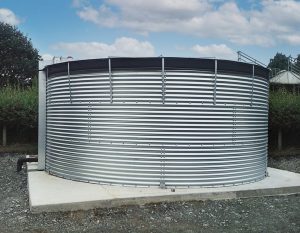 2. Self-Healing Properties: Magnelis® possesses a remarkable ability to heal itself. Scratches or damage to the coating triggers the formation of a protective zinc layer, halting corrosion in its tracks and extending the material's lifespan.
3. Longer Lifespan: Thanks to its superior resistance, Magnelis®-coated steel can endure up to three times longer than standard galvanised steel when exposed to harsh environments, making it the top choice in industries like construction, automotive, and renewable energy.
4. Reduced Maintenance: The self-healing and enhanced corrosion resistance qualities translate into substantial long-term cost savings. Less maintenance, fewer repairs, and recoating requirements make Magnelis® a practical investment.
5. Environmentally Friendly: Uses less Zinc than traditional galvanised steel, longer lasting, less maintenance and is 100% recyclable.
6. Technical Approvals: Germany: German Institute for Building Technology DIBt Z-30.11-51 for Magnelis® in contact with soil and water, France: ETPM for Magnelis by CSTB, Sweden: Technical Approval no SC0559-13, UK: Steel Construction Institute (SCI) concluded that the coating was appropriate for use when specified in construction.
Join us on the journey to a more resilient and sustainable future! Discover the revolutionary Magnelis® coating by Butyl Products Ltd. and be part of the change in Emergency Aid solutions.
Are you ready to:
Embrace unparalleled corrosion resistance?

Experience the magic of self-healing properties?

Extend the lifespan of your steel materials?

Save on maintenance and repair costs?

Contribute to a greener, more sustainable world?

Trust certified excellence with technical approvals?
Don't miss out on this game-changing innovation! Stay tuned as we embark on a transformative journey into 2024 with Magnelis®. Join us in redefining durability and protection in the Emergency Aid industry. Together, we can build a brighter and more resilient future.
For further information, please don't hesitate to call us at +44(0)1277 653 281 or click here to get in touch. Join us in shaping the future of Emergency Aid solutions!
⬇ Download the official Butyl Products Magnelis Newsletter ⬇