Disaster Response Kit 10 for 10,000 Beneficiaries
The Disaster Response kit 10 is designed to supply 150,000 litres of water per day, sufficient for 10,000 beneficiaries when run continuously.
Water
Water treatment is carried out using a 4m³ / hour sand and charcoal filter system, which uses coagulant chemicals and chlorine dosing, delivering water to 6 x 10m³ storage tanks which can then be distributed via 8 x tapstands. Alternatively the kit offers equipment to erect the tanks in different locations, each with a tapstand, with water supplied to them via water storage bladders and pumps mounted on locally sourced trucks. The kit includes jerry cans and plastic buckets for individuals to transport their own water.
Sanitation
The kit 10 contains sufficient equipment to construct 70 basic latrines with vector control consumables for up to 20 days, plus a soap bar and low flow water dispenser for handwashing for each family.
This kit is supplied in accordance with the following agency specifications: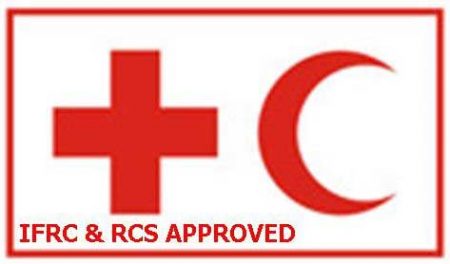 Description
IFRC & RCS (Red Cross & Red Crescent) order code: KWATNEACK10
Product Specifications
Each Kit 10 contains:
4m³ / hour at 100 NTU water purification units
Tapstand kits
'Oxfam' type tanks
2″ lightweight diesel powered pumps
Pumping oil & tool kit with tank & pipework tool kit
Fittings & connections kit
pH tester, conductivity meter
Bulk NaDCC and aluminium sulphate granules
Water testing kit with Jerry cans, plastic buckets and low flow water dispensers
5m³ Transport bladders
Squatting plates, latrine slab moulds, rapid latrines and plastic sheeting for privacy / protection
Hygiene promotion equipment including puppet kits, banners, flash cards and other items to promote hygiene with digital camera, laminator, laptop, tripod screen and LCD projector to enable key hygiene promotion activities at community level
Manual backpack sprayers with insecticide and personal protective equipment for vector control
Sedimentation / disinfection sachets and handwashing soap bars
Downloads for this product:
There are no downloads for this product.