ERU Water & Sanitation: Module 15 (M15)
The M15 module is part of the complete water and sanitation Emergency Response Unit and is one of three modules (other modules are M40 and MSM20). This module provides equipment to treat and distribute up to 225,000 litres of safe drinking water per day for populations sizes up to 15,000 people. The storage capacity of this unit is 200,000 litres per day and also provides limited sanitation and hygiene promotion for up to 5,000 people. The M15 module incorporates distribution and trucking capability of up to 75,000 litres per day and can therefore respond to three to five densely populated locations. The kit configuration allows for a maximum of nine different storage and distribution points in total. All equipment is securely packed for air freight according to IATA regulations.
This kit is supplied in accordance with the following agency specifications: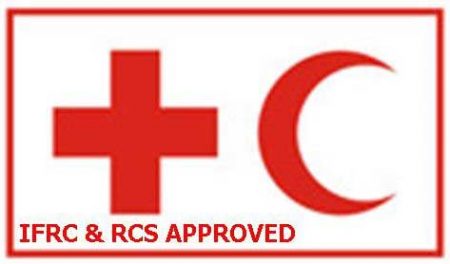 Description
IFRC & RCS (Red Cross & Red Crescent) order code: UWATMM15COMP
Product Specifications
General Kit Contents:
Water treatment units providing 4m³ / hour at 100NTU
Flexible pillow tank kits, each kit capacity 12m³
Surface and submersible pump kits for both water and trash handling
Water quality testing kits
Tool kits, adaptors, fittings and spares
Rigid corrugated water storage tanks, capacity 70m³
Hoses, pipework and chemicals included for 1 months operation
Distribution and trucking equipment including pumps, pipework, 10m³ rigid corrugated tanks, 10m³ flexible pillow tanks, tapstands, adaptors and spares
Latrine digging equipment including wheelbarrows, shovels, hoes, pickaxes and saws with squatting slabs and slab moulds
Vector control manual backpack  sprayers and insecticides
Personal protective clothing kits
Personal water storage equipment: buckets, jugs, basins & bowls
Woven plastic tarpaulins for privacy / screening
Nylon and polypropylene rope
Hygiene promotion Box A
Downloads for this product:
There are no downloads for this product.