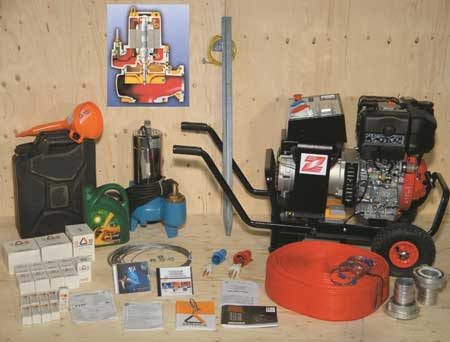 Submersible Sewage Pump Kit
Pumping kit including Electric Submersible pump and 6kVA Genset.
The 3.4kW pump is capable of ingesting all types of materials, including fibrous matter and is highly suitable for sewage needs.
The 4 stroke, single cylinder, air cooled engine is close coupled with the alternator on anti-vibration mounts inside a durable 2-wheeled tubular steel rollover frame.
Flow rates:
 45m³/h at 5m
5m³/h at 15m
For technical help and advice we recommend visiting our specialist Pump Division.

This kit is supplied in accordance with the following agency specifications:
Description
IFRC & RCS (Red Cross & Red Crescent) order code: KWATPUMESE01
Product Specifications
Kit contents:
6kVA Generator
Vortex type electric submersible pump
25m Submersible electric cable
Stainless steel rotproof cable
20m  2″ Reinforced flat delivery hose with Storz couplings
Diesel engine oil
Plastic funnel and maintenance tool kit
Engine spare parts kit
Operating and instruction manuals in both French and English
Downloads for this product:
There are no downloads for this product.