Disaster Response Kit 5 for 5,000 Beneficiaries
The Disaster Response Kit 5 is designed to supply up to 75,000 litres of water per day, sufficient for 5,000 beneficiaries when run continuously.
Water
Water treatment is carried out using  a 4m³ / hour sand and charcoal filter system, which uses coagulant chemicals and chlorine dosing, delivering water to 3 x 10m³ storage tanks which can then be distributed via  4 tapstands. Alternatively the kit offers the equipment to erect storage tanks in different locations, each with tapstands, with water supplied to them via a water storage bladder and pump mounted on a locally sourced truck. The kit includes jerry cans and buckets for families to transport their own water.
Sanitation
The Kit 5 contains sufficient equipment to construct 35 basic latrines with vector control consumables for up to 20 days, and a bar of soap and low flow water dispenser for handwashing for each family.
This kit is supplied in accordance with the following agency specifications: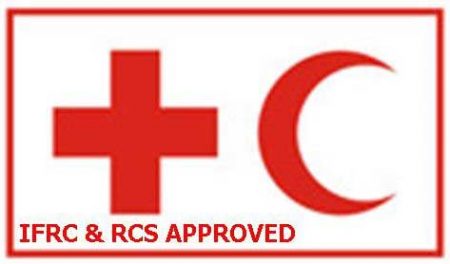 Description
IFRC & RCS (Red Cross & Red Crescent) order code: KWATNEACDR05
Product Specifications
Each Kit 5 contains:
4m³ / hour water purification unit at 100 NTU
Tapstand kits
'Oxfam' type tanks
2″ Lightweight diesel powered pump
Pumping oil & tool kit
Tank & pipework tool kit
Fittings & connections kit
pH tester with consumables
Bulk NaDCC and aluminium sulphate granules
Water testing kit
Jerry cans, plastic buckets and low flow water dispensers
5m³ Transport bladder
Squatting plates, latrine slab moulds, rapid latrines and plastic sheeting
Backpack sprayer, insecticide and protective clothing for vector control
Hygiene promotion equipment
Sedimentation / disinfection sachets and handwashing soap
Downloads for this product:
There are no downloads for this product.